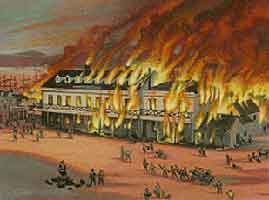 at 6:00 AM, San Francisco's first great fire ignited in Dennison's Exchange, one of The City's richest gambling houses on Kearny Street opposite Portsmouth Square. Rising flames quickly destroyed Dennison's and the south side of Washington Street between Kearny and Montgomery before the fearful blaze was halted by blowing-up and pulling down buildings at the inferno's edge. The newly-minted Gold Rush city was gone in a few short hours. The next day, the volunteer fire department was established with The San Francisco, The Empire, and The Protection companies. In less than a month of days, San Franciscans rebuilt their city.
Credits:
Barbary Coast Press, Rick Covell
Copy by Katherine York and Tim Keefe
Illustrations by David McMacken
San Francisco Vintage Firehouse Poster is on sale at the San Francisco Fire Museum Gift Shop.