655 Presidio Avenue (Get Directions)
San Francisco, CA 94115-2424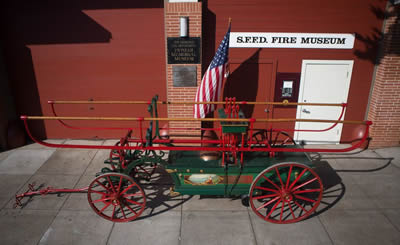 Now on display - Our latest acquisition through the incredible generosity of
Fireman's Fund and their new owner Allianz.
THE FIRST FIRE ENGINE BUILT IN CALIFORNIA
1855 William Worth, San Francisco, 2nd Class Hand Engine
Empire-Broderick Engine Company No. 1
160 Years Later - The First Fire Engine Built in California Returns
Source: San Francisco Chronicle

Museum Hours:
Click here for a CURRENT STAFFING SCHEDULE.
As the museum is staffed by volunteers, it is best if you call 415-558-3546 after 1:00 PM on the day of your visit to make sure it will be open for you.

If you have a museum question or would like to contact Guardians Of The City, please leave a message at 415-431-4682. A volunteer will return your call. Messages are checked daily.
We thank our sponsors for their generous support.
To visit our sponsors' websites, please click on the logos below.