Protection Engine Company No. 2
Date Organized: February 5, 1850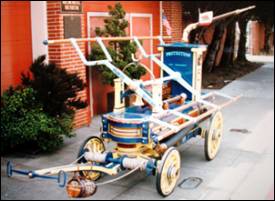 Protection Engine
Builder: James Smith, circa 1820
Montgomery Street, adjoining the Metropolitan theatre, near Jackson Street.
Apparatus:
1850 circa 1820 James Smith, New York
This engine is now part of the apparatus collection of the Museum
* The Protection Company comes to the aid of the "First California Guard."
In August, 1850, their services were called into requisition for the first time, and the importance of the organization and its capacity to do all that had been expected in its formation, was made manifest. The squatters of Sacramento having armed themselves, had a bloody encounter with the legal authorities. Governor Burnett had ordered out General A. M. Winn, of the Second Brigade, First Division, California Volunteers, to the seat of difficulties, and Lieutenant-Governor McDougal, then at Sacramento, immediately requested Capt. Wm. D. M. Howard (then commanding the Guards) to loan the authorities their muskets, which the company unanimously resolved to bear in person, and though only called together at 8 o'clock, A. M., were ready in two hours, "armed and equipped as the law directs." Simultaneously, Mayor Geary called on the people of San Francisco to volunteer in the aid of their sister city. The proclamation attracted a large crowd of citizens, who deserted their occupations, and proceeded, as elsewhere narrated, on board the steamboat "Senator" to the scene of the action, along with the Guards, numbering eighty men, and the "Protection Fire Company, No. 2," who, to the number of fifty, had hastily equipped themselves with red shirts and dark pantaloons, and muskets, under Capt. W. McCormick. On the voyage, the volunteers were drilled by Capt. F. J. Lippitt, a most excellent officer. Notwithstanding the troops were not called into actual service, the moral effect of their promptitude and universal action, showed the efficiency of the volunteer militia in defending law and order, and did as much as any thing else to prevent the repetition of similar outrages in other parts of the country.
* Source: Frank Soulé, John H. Gihon, M.D., and James Nisbet. The Annals of San Francisco. 1855: San Francisco.