John M. Borman

John M. Borman, Lieutenant - July 30, 1946 (#99)
Rescue Co. No. 1 - 418 Jessie Street


Albert F. Hudson

Albert F. Hudson, Lieutenant - July 30, 1946 (#100)
Rescue Co. No. 1 - 418 Jessie Street


Walter V. Elvitsky

Walter V. Elvitsky, Hoseman - July 30, 1946 (#101)
Rescue Co. No. 1 - 418 Jessie Street


Charles P. Lynch

Charles P. Lynch - July 30, 1946 (#102)
Rescue Co. No. 1, (Detail from Salvage Co. No. 1)
HERBERT HOTEL FIRE
161 Powell Street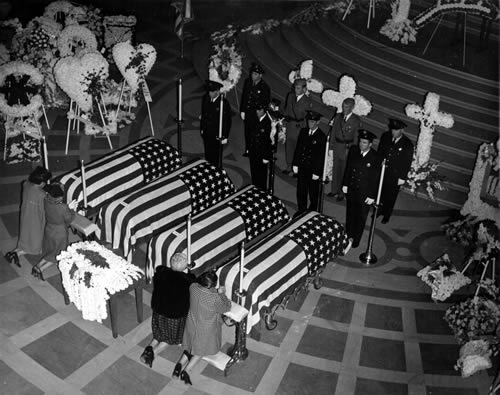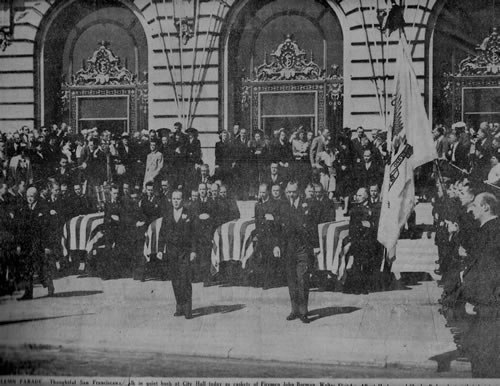 'MY BEST BUDDIES, MY BEST PALS—I SAW THEM DIE'
Dazed with grief and exhaustion, Fireman E. J. Russell sat curb near the wreckage of the Hotel Herbert where four firemen in a five-alarm blaze early today. Tears were in his eyes and his voice broke as he spoke.
"My best buddies," he said. "My best pals. I saw them die." His friends were Albert Hudson and John Borman.
"I saw them when they died' Mr. Russell said brokenly, "They were right ahead of me, in the back kitchen.
"There was a sudden flash of fire that reached out and enveloped them just for a moment,
"Johnny fell. He was still alive, but I couldn't reach him. He drowned in the water from our own hoses.
"Al was burned badly. I couldn't see what happened to him."
(Mr. Hudson's body was found under the bandstand, where he had apparently fallen after attempting to flee from the flames.)
Mr. Russell fought to control his sobs.
"We were from No. 2 Division. I don't remember our company now. I can't think."
"I can't find my truck. I don't care if I never find it."
All I can think of is those two fellows and Walt Elvitsky. I didn't know Lynch (Charles Lynch, the fourth man killed), but he must have been a nice guy, too—all these fellows are.
Borman has a youngster—a daughter just two years old. And Hudson's wife is going to have a baby in a week or so. I saw those fellows die. I couldn't help them. I couldn't even help the other fellows get them out. It was too much for me. They were my friends.
"God, their poor kids.
''Those wonderful fellows."
Fireman Lynch—the first fatality —was pulled from the night club entrance, asphyxiated by fumes and badly seared. .He died at Mission Emergency.
Fireman Hudson and Lieutenant Borman were attempting to control the flames in the kitchen, when the flare-up drove them back. Mr. Borman fell into the pool of water and was drowned, and Mr. Hudson was buried under collapsing debris, The body of Fireman Elvitsky, buried under a ton of debris, and was recovered from the rear of the basement after it had been pumped out. He had apparently fallen into the flooded cellar when the floor collapsed. The body was not badly burned.
JOHN BORMAN
Lieutenant John Borman, 35, of 172 Twenty-first avenue, another of the victims, was killed in the blaze because he was temporarily filling in on the department's rescue squad. He was shifted to the squad only yesterday to take the place of Captain Otto Lippert, who was injured in a fall while fighting a fire Sunday.
Borman ordinarily was assigned to Truck 8, and other members of that crew said he would still be alive if he hadn't been shifted to the rescue, squad.
Borman is survived by a widow and a 19 months old daughter, Irene, and by three sisters. Born in Los Angeles, he was brought here as a child. He attended St. Ignatius High School and entered the department in 1935.
ALBERT HUDSON
The third victim was Lieutenant Albert Hudson, 35, of 4065 Twenty-fifth street, a member of the rescue squad. Hudson had been injured twice before during his fire fighting career.
Hudson, whose widow was reported expecting a baby, first entered the department in Sep¬tember, 1935. He took a military leave to enter the Navy as a vol¬unteer in March, 1942, returning to the department on the first of February, 1946.
Shortly after, on February 16,' he was appointed a temporary lieutenant.
Hudson received a meritorious conduct award from the fire department January 28, 1942, for aid rendered in rescuing a man from a burning apartment on November 5, 1941.
WALTER ELVITSKY
The body of the fourth victim, Walter V. Elvitsky, of 1778 Twentieth avenue, was not recovered from the basement, until several hours after the fire. Elvitsky, a hoseman with rescue squad one, entered the department in 1942.
Elvitsky's father, Walter Sr., said that his son's wife, Lydia and their daughter, Natalie, 4, were vacationing at Jordan Park in Lake County, friends who telephoned Mrs. Elvitsky informed her only that her husband had been "seriously hurt."
CHARLES LYNCH
Charles P. Lynch, 29, of 1517 York street, a member of the department's salvage corps and a victim in the disaster, talked of quitting only a week ago, according to his brother, James, also a fireman.
Lynch, a graduate of Mission High School, served throughout the war with the Seventh Division in the Pacific, and went through five major campaigns without receiving a scratch.
After receiving his discharge, Lynch, a veteran of such bitter campaigns as those on Okinawa, Leyete, in the Marshall Islands and at Attu, entered the fire department on November 7 of last year.
His brother, James, 31, a Navy veteran, fought the same fire this morning but escaped uninjured. When he heard the news of his brother's death at the scene, James said that he was going to leave the department.
TRIBUTE PAID FIRE HEROES
600 MARCH IN FUNERAL PARADE
A solemn parade, in strange, quiet contrast to other parades this city has seen, left the City Hall this, morning with its marching men moving in slow cadence.
It was a funeral parade for four local young men whose lives were snuffed out in seconds as they did their routine job early one morning this week.
Their names—John Borman, Waler Elvitsky, Albert Hudson and Charles P. Lynch.
Their job—firemen.
Today, more than 600 firemen from San Francisco and Bay Area cities marched in formal homage to the four. There was no music not even muffled drums.
They were joined by an honor guard of 60 policemen and Navy fire fighters from Treasure Island and Hunters Point.
In strange contrast, too, were the firemen in the guard of honor, all of whom were men who fought the same fire which killed the men to whom they were paying tribute. About the same time of day last Tuesday, they were smoke-blackened, in some cases injured, and weary firemen. Today they were in their formal blue uniforms with white gloves.
Source: The above articles are taken from unknown San Francisco newspapers
Extracted from original sources with grammar and spelling as published.