Joseph P. Ryan, Hoseman - February 4, 1917 (#62)
Engine Co. No. 21 - 1152 Oak Street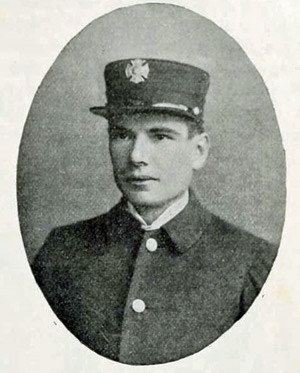 SKULL FRACTURED
Joseph P. Ryan, Hoseman Engine Co. 21, February 4, 1917, skull fractured in performance of duty. Mr. Ryan was pensioned under the provisions of Article 9, Chapter 7, Section 5 of the Charter, viz.: Mary Ryan, guardian of the person and estate of Alice Ryan, minor child of Joseph Ryan, deceased, formerly Hoseman of Engine Company No. 21, killed in the discharge of duty. Pensioned April 2nd, effective from March 2nd, 1917 date of death of said Joseph Ryan.
March 2, 1917 Mrs. Mary Ryan, guardian of Alice Ryan, was granted a quarterly pension of $180.
The 1917 pay for a Hoseman was $1,440 per year.
Extracted from original sources with grammar and spelling as published.