James O'Neil - April 18, 1906 (#48)
Truck Co. No. 1 – 22 O'Farrell Street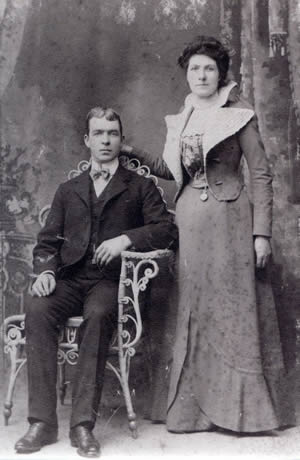 James O'Neil With Wife Mary
THE GREAT EARTHQUAKE & FIRE
James O'Neil, Truckman, Truck Co. No. 1, killed at the quarters of his company by falling walls, on April 18, 1906
On the morning of April 18th, Truckman O'Neil was standing the 2:00 A.M. to 6:00 A.M. night watch on the apparatus floor at the quarters of his company. Truck Company No. 1 was housed in a three story brick building which was built in 1866 located at 22 O'Farrell Street. The violent force of the Great Earthquake shook the firehouse, causing the brick walls to collapse killing Mr. O'Neil.
During the year (1906) the following named widow of a late member of the Fire Department was pensioned under the provision of Article IX, Chapter 7, Section 5, of the Charter, viz: Mrs. Mary A. O'Neil, widow of James O'Neil, Truckman of Truck Company No. 1. Pensioned May 11, 1906. Effective May 1, 1906.
Mrs. O'Neil was granted a quarterly pension of $135.
In 1906, Truckman were paid an annual salary of $1,200.
Extracted from original sources with grammar and spelling as published.