Henry Sullivan, Lieutenant - February 5, 1906 (#46)
Engine Co. No. 37 - 1380 Utah Street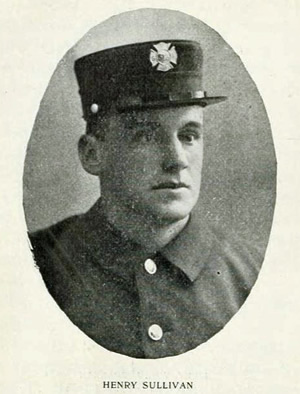 FALL FROM APPARATUS
Henry Sullivan, Lieutenant Engine Co. 37 died February 5, 1906 the effects of an operation resulting from an injury received while responding to an alarm of fire.
During the year the following named widow of a late member of the Fire Department was pensioned under the provision of Article IX, Chapter 7, Section 5, of the Charter, viz:
Mrs. Jennie Sullivan, widow of Henry Sullivan, Lieutenant, Engine Company No. 37. Pensioned February 1, 1906. Effective February 1, 1906
Mrs. Jennie Sullivan was granted a quarterly pension of $150.
Source: 1906 Municipal Report, page 72
Extracted from original sources with grammar and spelling as published.