John J. Webb, Battalion Chief - January 17, 1950 (#107)
District 9 - 2098 San Jose Avenue
Appointed to the Department 1920
Appointed to Lieutenant 1927
Appointed to Captain 1939
Appointed to Battalion Chief 1947
FALSE ALARM PRANKSTER HUNTED IN WEBB DEATH
Police and fire department investigators yesterday began a search for the cruel prankster whose false alarm last Monday night brought death to Battalion Chief John J. "Spider" Webb.
That search, authorities promised, will never end until the prankster is found.
As funeral arrangements for the battalion chief were being completed, authorities resorted to stern measures in their search and strong words to describe the act which sent Chief Webb and Driver George McGraw speeding to a fire box at Silver Avenue and University—and skidding into a telephone pole.
DIES UNDER KNIFE.
Chief Webb died late Tuesday on an operating table in San Francisco Hospital. McGraw, with a severed left foot, is still in serious condition at the hospital.
Promised Chief of Inspectors James English:
"We're going to exhaust every possibility to find the person or persons who pulled that alarm Monday night. It might take a long time—but the case won't be marked closed" until we find the person responsible for Battalion Chief Webb's death."
Fire Marshal Frank Kelly directing his department's own investigation, in co-operation with the police, similarly announced that "we won't stop our search no matter how long it may have to continue." Kelly revealed the appalling travel a farther distance, thus increasing all the hazards involved, every time an engine company answers a call."
District Attorney Edmund G., Brown, lending all the facilities of his office to the police and fire departments, called the prank which caused Webb's death "a terrible thing."
"It is shocking," Brown added, "when a man, on duty, protecting human lives, has to be cut off—killed—-by some thoughtless or malicious person sending in a false alarm." Ordinarily, pulling a false fire alarm is a misdemeanor.
The district attorney's office pointed out, however, that where death results, under circumstances such as those In which Battalion Chief Webb died, the consequences could lead to placing the responsibility for Webb's death on the person who turned in the false alarm.
COULD BE FELONY.
Hence, felony, rather than misdemeanor charges, could be filed.
D. P. Street, manager of the chamber of commerce's civic development department, declared that "the tragic and untimely death of Chief Webb and injury to McGraw In answering a false alarm in line of duty saddens the hearts of all San Franciscans."
John B. Quigley, chairman of the chamber's fire safety committee, called for "definite action at once to reduce the rate of false alarms," and suggested that education of the citizenry in the overall operation of the fire department would be the first step, both at school and adult level.
RITES TOMORROW
Funeral services for Chief Webb will be held tomorrow at 9:30 a. m., but final arrangements, under the direction of Ganter, Felder and Kenny mortuary have not been completed,
AREA FIREMEN JOIN IN RITES FOR FALSE ALARM VICTIM
Battalion Chief John J. "Spider" Webb will be laid to rest this morning with the full honors of a fireman killed in line of duty. Long before the funeral cortege rolls up to Corpus Christi Church, 80 Santa Rosa Avenue, where a Solemn Mass of Requiem will be celebrated beginning at 10 a. m., hundreds of members of the department—every off duty fireman in San Francisco— will have formed an honor guard before the church.
Their ranks will be swelled by another hundred men from virtually every fire department in the Bay area, including Oakland, Berkeley, and the peninsula.
TRAGIC RESULT.
Their presence, while honoring the fallen battalion chief, will be a somber commentary on the grim consequences that can re suit when some one pulls a false alarm, either with malice, or as a prank.
Chief Webb died late Tuesday from injuries sustained when he and Driver George McGraw, responding to a fire-alarm at Silver Avenue and University, on Monday night, skidded into a telephone pole. McGraw is still in serious condition., It was a false alarm.
Despite the tragedy, fire department records disclosed yesterday that since the accident occurred at 7:09 o'clock Monday night, an additional sixteen false alarms had been pulled. Two of the false alarms were from the general area of Silver Avenue and University.
CAREFUL HUNT.
While funeral arrangements were being completed for Chief Webb at the Gantner, Felder and Kenny mortuary, 1965 Market Street, where the Rosary was recited last night at 8 p.m., investigators of both the fire and police departments continued a door-to-door check of homes in the Silver Avenue-University area.
Thus far, they have no clews, but authorities stressed that the search will not end until the person who pulled a false alarm on fire box 6354 last Monday night is found.
Today's final rites for Chief Webb will be concluded with graveside services in Holy Cross Cemetery.
WEBB'S FUNERAL RITES HELD
Chief John J. "Spider" Webb was buried yesterday while authorities questioned a youth suspected of turning in alarm which cost Webb his life.
Fire Marshal Frank Kelly said —a 16 year old boy— was being questioned at his home by members of the arson squad. Webb, 51, was fatally injured Monday night when a fire truck skidded into a utility pole en-route to a false alarm at Silver and University Street. :
The veteran fireman was laid to rest with the fire department's greatest honors.
Eight hundred and fifty uniformed firemen stood at attention before Corpus Christi Church as the cortege arrived.
The David Scannell Club said the honor guard—690 San Francisco firemen and 160 other from Bay area departments— was the greatest tribute ever paid a city fire fighter.
Attendants at the solemn mass of requiem included members of the fire commission and Acting Chief Fred Galli, representing Chief Edward Walsh, who was out of the city.
Rites for Chief Webb were concluded with graveside services in Holy Cross Cemetery;
George McGraw, the fire truck driver, was severely injured.
Chief Webb is survived by his wife, Mrs. Esther Webb of 670 Cayuga Avenue; two sons, John Jr., 20, and Richard, 3; a brother, Battalion Chief Thomas F. Webb, and two sisters, Mrs. Helen D. Fisher and Mrs. Mary V. Knapp.
Funeral arrangements were in charge of the Gantner-Felder and Kenny Mortuary.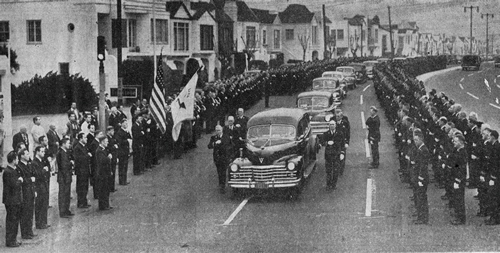 Photo by, San Francisco Examiner.
FIRE DEPT. PLEDGES ALL-OUT DRIVE ON ALARM PRANKSTER
A determined campaign to find the prankster who Monday night turned in the false fire alarm which sent Battalion Chief John J. (Spider) Webb speeding to his death was announced today by the Police and Fire Departments.
Chief Webb's auto skidded into a phone pole as he was heading for the fire box at Silver-av and University-st. Driver George McGraw was critically injured, his left foot severed.
"We won't stop our search, no matter how long it may have to continue," declared Fire Marshal Frank Kelly.
Ordinarily turning in a false alarm is a misdemeanor. Under these circumstances, however, it could mean the person would be held responsible for Chief Webb's death, according to Dist. Atty. Edmund G. Brown.
Extracted from original sources with grammar and spelling as published.