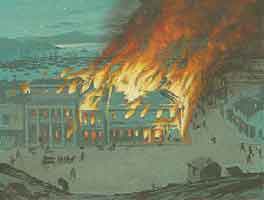 On May 4, 1850 at about 4:00 AM, a suspicious fire erupted in a building on the east side of the United States Exchange, a drinking and gambling house built where Dennison's Exchange once stood. Before 11:00 AM, the conflagration consumed the block between Kearny, Clay, Washington, and Jackson. Again, dynamite and rope saved the city from complete destruction. With ashes still hot and smoking, the first evidence of arson was found. Within ten days San Franciscans had rebuilt half of their Phoenix City.
Credits:
Barbary Coast Press, Rick Covell
Copy by Katherine York and Tim Keefe
Illustrations by David McMacken
San Francisco Vintage Firehouse Poster is on sale at the San Francisco Fire Museum Gift Shop.