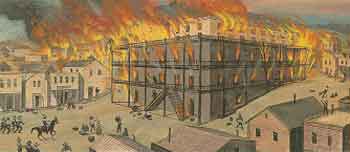 On June 22, 1851, just before 11:00 AM, a fire, clearly the work of an incendiary, broke out in a frame house on Pacific Street near Powell. Strong summer sea-breezes drove the flames south and east. Firefighter's fearless battles were of no avail against the fire's intense heat and speed. Ten blocks and portions of six others were destroyed between Powell, Sansome, Clay and Broadway. The raging demon swept away relics of an older time. City Hall was consumed, born in 1846, and the Jenny Lind Theatre burned for the sixth time. The Old Adobe Custom House burned, and Sam Brannan's House, in which were exhibited the first specimens of gold brought from the Placers, met the same fate. San Franciscans quickly rebuilt again, this time, with water tanks on many roofs.
Credits:
Barbary Coast Press, Rick Covell
Copy by Katherine York and Tim Keefe
Illustrations by David McMacken
San Francisco Vintage Firehouse Poster is on sale at the San Francisco Fire Museum Gift Shop.