John Edward Sweeney - June 20, 1900 (#41)
Badge No. 367
Engine Co. No. 29 - 1305 Bryant Street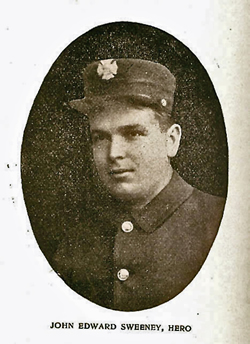 BUILDING FIRE RESCUE ATTEMPT - 1014 BRYANT
John E. Sweeney, Hoseman of Engine Company 29, died June 20, 1900, of injuries and burns received while rescuing a man from a burning building. Mr. Sweeney's act was one of great heroism. The man he saved lived while poor Sweeney died. A generous and grateful public has made ample provisions for the family of deceased and has paid its tribute of praise for his heroic deed.
Source: 1890 Municipal Report, page 433
1909 Pension effective from July 1, 1900, Mrs., Jennie Sweeney, quarterly $120.
A popular subscription was raised by the Press of the city and nearly sixteen thousand dollars was presented to his widow and orphans from the proceeds.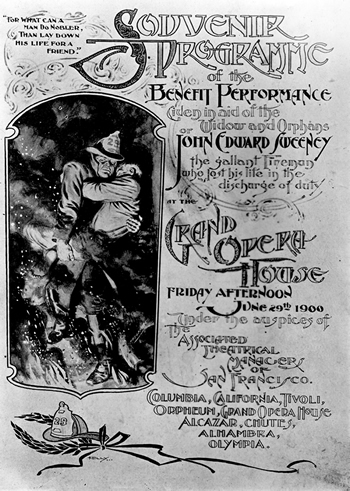 SOUVENIR PROGRAMME
of the Benefit Performance
given in the aid of the
of the Widow and Orphans
JOHN EDWARD SWEENEY
The gallant fireman who lost his life in the discharge of duty
GRAND OPERA HOUSE
Friday Afternoon, June 29, 1900
Under the auspices of the
Associated Theatrical Manager of San Francisco
Columbia, California, Tivoli, Orpheum, Grand Opera House,
Alcazar, Chuties,
Alhambra,
Olympia.
"For what can a man do nobler, than lay down his life for a friend."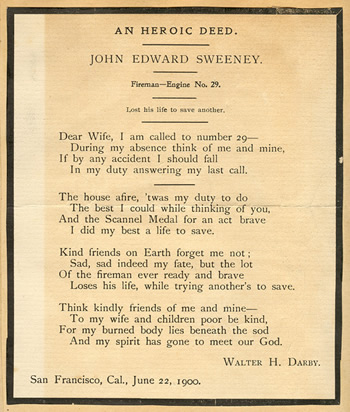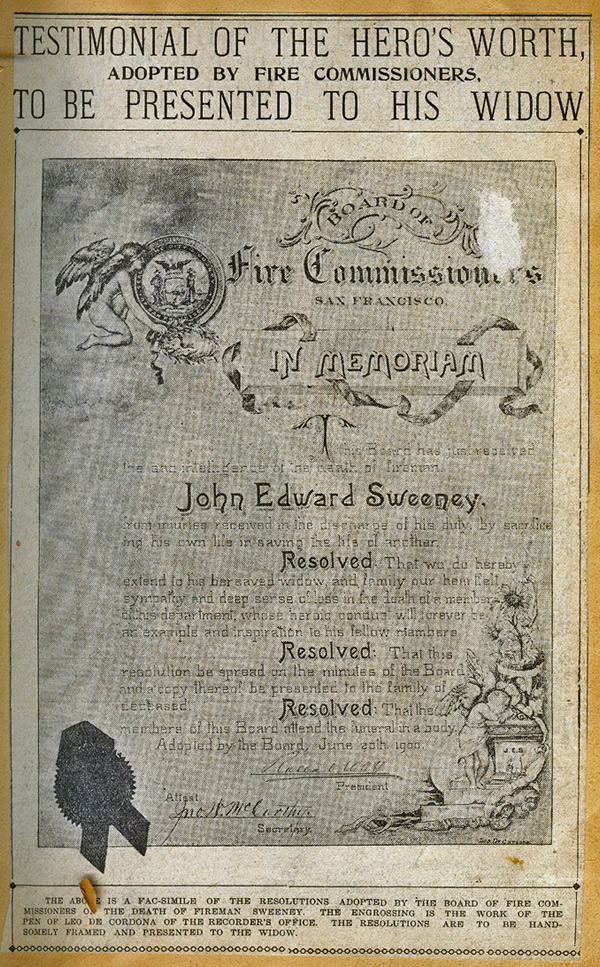 Extracted from original sources with grammar and spelling as published.